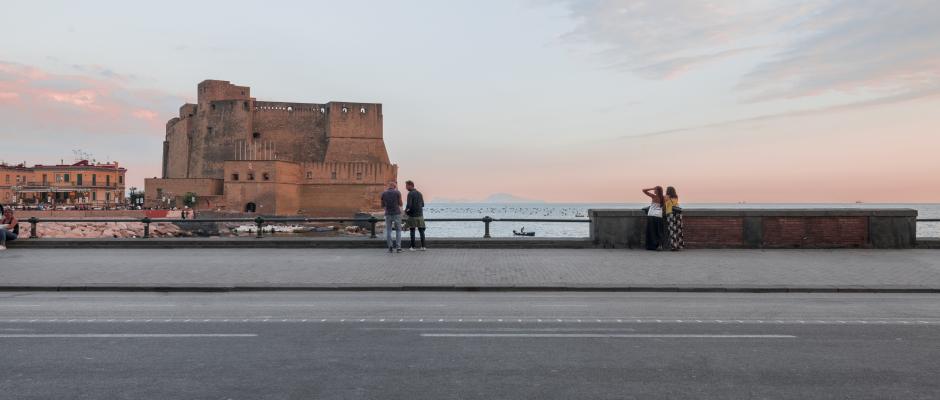 It is recommended to have a health insurance card, and travel insurance covering all medical, and legal costs.
COVID-19 information
You might be requested to fill in the passenger locator form and to have a proof of vaccination (green pass) to enter any indoors location. We will share updated information on this closer to the event. 

Please check the latest information about restrictions on passengers entering Italy here.
Additional information on COVID-19:
https://www.aeroportodinapoli.it/en
General travel advice
EMERGENCY NUMBERS

The number 112 can be used to call emergency services throughout the EU and supplements the local emergency numbers. Contact International SOS for help with your medical situation.

PORT OF ENTRY

Naples Airport is located ca. five miles / 8 km north-east of the city centre. Facilities are good and include duty-free shops, banks, bars and restaurants. Security standards are adequate, travellers should be aware of pickpockets, especially in the arrivals forecourt.

TO CITY CENTRE

Travellers can hire taxis outside the main terminal building. There are set rates for specific journeys to locations in and around Naples. A journey to the city centre will take around 30 minutes, depending on the time of day and the amount of traffic.

Alternatively, the 3S bus runs from the airport to the Piazza Garibaldi/Stazione Centrale and then on to Beverello Port, which is next to the Piazza Municipio. The bus leaves every half an hour and takes 20-40 minutes. Travellers can purchase bus tickets either at arrivals or departures and must be validated in the orange or white machines inside the bus. Alternatively, the official Alibus service (blue buses) also goes to the Stazione Centrale and then to the port, and tickets can be purchased on board.

PUBLIC TRANSPORT

Public transport consists of buses, trams and the Metropolitana (subway). The Metro is a good alternative to buses and taxis in heavy traffic. Metro, bus and tram tickets can be bought at news-stands. These must then be validated in small machines, which are either orange (old system) or white (new). The machines are often out of order, in which case visitors should write the time and date of the start of their journey on the back of the ticket or risk a fine. Funicular railways provide the most agreeable way to travel up to the commercial district of Vomero, where several important tourist sites are located. Public transport tends to be overcrowded and pickpocketing can be an issue.

TAXIS

Although taxis are a practical means of getting to destinations, traffic congestion can make a short journey expensive and slow. Minimum taxi fares within the city limits are slightly more than four euros. Receipts (ricevuta) are not common, but can be issued if requested. Taxis cannot be hailed in the street but can be found at ranks near the city's main tourist sites and transport hubs.

CAR HIRE

Parking spaces in the city centre are scarce. However, if planning to self-drive, travellers can rent vehicles from international car hire companies incl. Avis and Europcar. Non-EU nationals should carry an international driver's permit. 

MONEY

Visa and MasterCard are widely accepted, others like American Express or Diners Club may not. Visitors must produce identification when making credit card payments. Transactions under 10 or 20 € may incur a surcharge if paid by card, it is recommended to have some cash. Smaller and rural establishments may accept cash only. ATMs (Bancomat) are widely available. Travellers should exercise caution when withdrawing money from ATMs.

ELECTRICITY

CLIMATE

Average in June: 26°C; 31mm. Travellers can check the latest weather updates on the meteorological agency's website.

WORKING WEEK

Working week: Monday to Friday

Office hours: Mon-Fri 08.30-12.45 and 16.30-20.00 (centre, south of Italy) 

Banking hours: 08.30-13.30 and 15.00-16.00

TIPPING

Although service charges are generally added to the bill automatically, it is customary to leave a tip. Modest tipping is the norm. Rounding up a restaurant bill by a few euros is sufficient, if you wish to tip more (cash is preferred) for exceptional service it will be welcomed. A 10-15% tip is usual in a restaurant but generous for a taxi ride.

DIALLING CODE

+39

COMMUNICATIONS

Most hotels have complimentary Wi-Fi. Your mobile phone provider will give you information about costs for making and receiving calls or using data abroad. GSM services are provided by Telecom Italia (TIM), 3 Italy, Wind Telecommunications and Vodafone Italy. A number of internet cafés are available in the metropolitan areas. International courier agencies such as FedEx and DHL have offices in the country. 

CULTURAL ISSUES AND ETIQUETTE

Guests are usually introduced first in smaller gatherings, though you should introduce yourself at larger gatherings.

Shake hands with everyone upon entering and leaving. Handshakes often include grasping the arm with the opposite hand.

Dress conservatively when visiting religious buildings and smaller communities.

Conversations with Italians may take place at a much closer physical distance than in other countries. Stepping back from your counterpart may be regarded as unfriendly.

Eating is a rapport-building activity. Advise your hosts of any dietary restrictions in advance of a meal to avoid offending them by refusing food.

Smoking in indoor public places is prohibited.

It is unlawful to take photograph of government buildings and military installations.

It is illegal to eat and drink on steps and courtyards of churches and public buildings in the cities of Florence (Tuscany region) and Rome.

If speaking Italian, use the formal 'lei' when addressing business partners unless you have been invited to use the informal 'tu'.

Personal titles are important and it can be considered offensive to get them wrong: Dottore or Dottoressa is used for anyone who has a university degree, and is the safest option in any circumstance.

The most common forms of greeting are Signore (Mr), Signorina (Miss) or Signora (Mrs, or for any woman older than mid-20s). University teachers are always Professore or Professoressa. Members of the Chamber of Deputies are addressed as Onorevole.

It may be useful to establish a strong contact who can make appointments and introductions before travelling to Italy.

Exchanging business cards is common at business functions, but not at social occasions.

The pace of negotiations may be slower than that experienced in other countries, especially in businesses outside major cities.

Only a small, important group will attend business dinners. Ask your host to whom you should extend invitations.

Business dress for men and women is formal and fashionable.

It is common in some – but not all – parts of the country for people to arrive at meetings after the scheduled start time. However, you should always be on time to show respect.